Our ideas of safety changed in 2015. This year, businesses and communities found themselves confronted with dangers that didn't exist a generation ago. Technology that promised to make life easier also left us vulnerable to identity theft, fraud and invasions of privacy.
At a Hampton Roads Chamber of Commerce Senatorial Forum in August, Sen. Mark Warner emphasized the threat that cyber crime has on our nation, calling it "as great of a national security threat as any other."
Last fall, Old Dominion University launched its first major in cybersecurity. In September, Virginia Beach-based ECPI University announced that it will offer a master of science in cybersecurity degree program through its College of Technology at the Newport News campus.
Unfortunately, virtual violence shared headlines with actual violence this year. Global incidents and domestic terrorism helped make the term "active shooter" a regular part of the nightly news vocabulary.
Over the past 12 months, Inside Business highlighted Hampton Roads businesses who tackled these threats and worked hard to make protection a priority.
Battlefield tech comes to businesses and schools
This year, technology developed for Middle East war zones made its way into a Virginia Beach Catholic school.
Developed in conjunction with the Defense Advanced Research Projects Agency and Raytheon, the SDS Guardian gunshot detection system was originally designed to help American soldiers pinpoint snipers in Iraq. Massachusetts-based Shooter Detection Systems LLC is one of the companies that have repurposed this wartime technology for commercial use.
In 2015, Virginia Beach company ASI Security became one of the first registered distributors for the SDS Guardian system.
"Getting this in the school was important," said Ross Vierra, ASI president. "I think it will be the technology of the future … unfortunately."
Vierra donated the time and materials. SDS offered a discount on the equipment. For security reasons, administrators of the school requested that it remain anonymous.
The SDS Guardian isn't designed to prevent gunfire. Instead, it works as a kind of "gunshot smoke alarm," processing information in the fractions of a second after a trigger is pulled.
The SDS Guardian device "hears" and "sees" gunshots. Acoustic detection software instantly recognizes when shots have been fired. It can distinguish between a firearm and a slamming door. The device's infrared gunfire flash detection identifies that a weapon has been discharged. Within one second, it sends that data, and an alert message, to building occupants and first responders.
In November, Vierra and ASI Security participated in a three-hour active shooter simulation in New York City. First responders converged on the Bowery subway station in Lower Manhattan to react to a mock armed attack.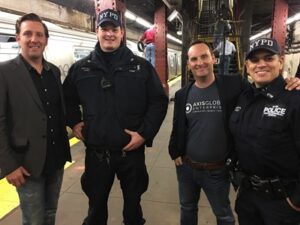 Josh Canada, far left, and Ross Vierra, second from right, owners of Virginia Beach-based ASI Security, took part in a Nov. 22 active shooter drill in New York City's Bowery subway station.
Vierra and ASI vice-president Josh Canada installed the SDS Guardian systems in the subway station to gauge its effectiveness during the drill.
ASI Security has more gunshot detection system installation projects planned for the Hampton Roads area, including businesses and several schools.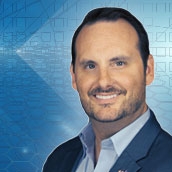 Latest posts by Ross Vierra
(see all)